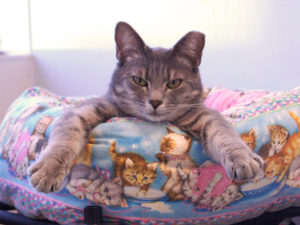 Please complete our Adoption Application if you are interested in our cats or kittens. After we review it, we will provide you with an interview with an Adoption Coordinator while meeting our cats and kittens. We use the Adoption Application and interview to help us make the best match possible. This may include review by the Adoption Committee based on our policies, below.
After reviewing the Application and completing the interview, we may recommend a different cat or kitten that is more suitable to your household. We want to make both our adoptable pets AND our adopting families as happy as possible, so we may recommend another cat besides the one you may have picked out online. But don't worry! We will help you find a cat or kitten that best matches what you are looking for so that you and your new furry companion can have a happily ever after!
Happy Cats Haven is a privately run, non-profit organization and reserves the right to refuse any adoption that is not in the best interest of the cat or kitten, based on our principles and policies:
DECLAWING: In support of happy, healthy cats, we do not place one of our cats or kittens with someone who plans to declaw them. Declawing amputates each toe down the to first knuckle, mutilating the cat's feet. We make every effort to observe what type of scratchers they prefer for the best chance of continuing that use at your home. We believe declawing can lead to other problems like inappropriate litter box use and health issues, ultimately damaging your cat–and your home–far more. Please see our fact sheet on declawing to make the best decision for both you, your furry friend and your furniture. If you feel you have no choice but to declaw your cat, we request you return him or her to us for a full refund so we can find a more appropriate home.
INDOOR/OUTDOOR: We do not place one of our cats or kittens to someone who has plans to let them live outdoors. Adopters must agree to keep the cat or kitten primarily indoors. We will be happy to provide information on how to train a cat or kitten to use a halter and leash if you'd like to take the cat outdoors. We also suggest making simple outdoor enclosures (catios) for your cat and can provide resources for that. The one exception to this policy will be when placing a barn cat.
LONG DISTANCE ADOPTIONS: We do not place cats or kittens into a home that would require a travel distance of more than 4 hours drive by car or bus, and absolutely not into a home requiring transportation by plane or train.
KITTENS IN PAIRS: For kittens at or under the age of 4 months, we give preference to adopters who will adopt them in pairs unless you already have a young, compatible cat or dog at home, or if the guardian(s) is home for the summer, works from home or is retired.
KITTENS & CHILDREN: We recommend an older kitten (at least 4 months) or an adult cat for children under approximately 6 years of age. The appropriate age will further depend on the personality and the needs of the kitten. Younger kittens are more fragile and can be accidentally injured by a small child. Also, young kittens have not learned yet to retract their claws and may accidentally injure a small child.
POPULAR CAT POLICY: If there are many people interested in adopting a specific cat/kitten at the same time, the names of applicants who are qualified by the Adoption Committee will be entered into a random drawing. This provides all qualified adopters an equal opportunity to adopt the cat/kitten of their choice.
TENANT AGREEMENTS: If you rent your home, you must provide a copy of the pet agreement clause of your rental lease and permission from your landlord PRIOR TO adopting any cat or kitten from our shelter.
HOLDS: Provided the adoption application is approved, a hold of $50 may be placed on a cat or kitten while an adoption decision is being made. This hold will be released in 7 days and is transferrable – but not refundable.
Adopting a cat or kitten is a 15-20 year commitment. Thank you for helping us follow these policies to make the best decisions both for our cats and kittens and for their adoptive families.